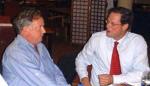 LDpe has the intention to make the participant himself the manager of the process.

The LDT is designed as a strong instrument for leaders and professionals, built on the premises that today's leader/professional has the analytical capacity to comprehend interrelations and consequences as well as draw conclusions on the own ambitions and preferences. But for that, the participant will need some help and guidance during his learning journey. The reviewer that helps the leader to understand the toolbox, the process, and the language, must be well qualified for that role.

Such a reviewer role may only be exercised by certified assessors who have a thorough command of the domains of leadership models and basic psychology and who know the toolbox and its processes very well.

The LDT certification process contains a theoretical part (20 study hours) and a personalized practical application phase. Below you see the content of the reader map for the LDT certification program. To certify for facilitation of the Team Effectiveness program requires far more reading, which is specified in the Team Effectiveness Workshop certification program.