FRAMEWORK FOR SELF DEVELOPMENT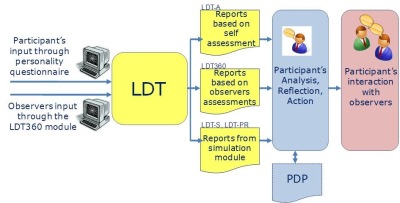 The Leadership Development Toolbox (LDT) is a unique enabler for self development.
More than 3.500 leaders and professionals all over the world have been using (parts of) the toolbox.
It has a proven record to be a perfect instrument for individual development as well as a building block for corporate LD programs, Organisational Change and/or Innovation Programs.
Self development for leaders and professionals
The LDT's reports are used by leaders and professionals at all organisational levels. From CEO to emerging leader, from young professional to leading professional, from business developer and sales representative to program- or project-leader).
Using the LDT will give you a framework for awareness and reflection on the effectiveness of your (leadership) behaviour and support you with concepts and models for identifying your personal strengths and for defining and realising your own development program.
Self development for Young Professionals and emerging leaders
Although the Leadership Development Toolbox (LDT) originally was designed to support leaders and leading professionals in their self-development, many of the functions of the LDT may successfully be used by talented, but still unexperienced individuals.
A number of the LDT's concepts and models are related to operational roles and functions, but even if the participant lacks experience, it may be interesting to get an overview of the potential role and style portfolio.
Besides, especially ambitious young professionals might want to accelerate their development.
LDpe's owner, Henk Bremer, has worked 25 years for Capgemini, a leading international consulting organisation.
See also the chapter about LDpe's founder under LDpe.
At the start of his employment in 1983 the number of employees counted 4000. Today Capgemini employs more than 200.000 professionals.
A large contribution to this growth has been realised by the consequent development of young professionals.
Much of the experiences of accelerating personal growth have been brought together by Ben Elsinga in his Young Professional Career Accelerator Guide.
Young Professionals Career Accelerator Guide
By clicking on the picture to the right you can download your own free copy of Ben Elsinga's YP Career Accelerator Guide.