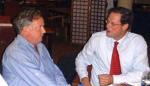 LDpe tiene la intención de hacer al participante el gerente responsable del proceso. El LDT ha sido construido como un instrumento fuerte en manos de lideres y profesionales.
Se construyo en la sabiduría que los lideres y profesionales de hoy día tienen las capacidades analíticas para comprender las interrelaciones y consecuencias de sus propias ambiciones y preferencias y también saben sacar conclusiones.
Pero para eso necesitan alguna ayuda durante este trayecto de aprendizaje. El revisor que le ayuda al líder o profesional de comprender el uso, los procesos y la lengua del Toolbox debe de estar calificado para ese papel.
Tal papel de revisor solo puede ser hecho por personas certificadas que conocen los dominios de los modelos de liderazgo, tienen una base en psicología y que conocen bien al Toolbox y sus procesos. La calificación para LDT contienen una parte teorética (20 horas de estudio) y una practica personalizada.

Below you see the content of the reader map for the LDT certification program. To certify for facilitation of the Team Effectiveness program requires far more reading, which is specified in the Team Effectiveness Workshop certification program.